Kendra Horn is the Executive Director of Women Lead Oklahoma. A practical idealist, Kendra believes that "can't" is a dirty word, that limits are meant to be challenged and conventional wisdom questioned. She was inspired to create this organization after returning to Oklahoma to work on a major campaign – she saw so many women making a difference but she also saw too many feeling isolated and disempowered. Kendra put it this way: "The truth is, so many people want to see a change but they don't believe they can be a catalyst for it. I want to show them that not only they can but that they already are. Women are so much more powerful than they think. Through Women Lead Oklahoma, I am striving to show more women the power they already have to make a difference in their communities and world, to create connection, dialogue and action that leads to real changes in their experience in the world."
Kendra's diverse experience and background includes law, political campaigns, working on Capitol Hill, leading government affairs, marketing and communications for both a non-profit and start up in the space industry, managing a large yoga studio, and strategic consulting as a small business owner. Kendra completed her undergraduate work at the University of Tulsa and Law School at SMU in Dallas.
Kendra is committed to creating conscious leaders and working toward a reality where everyone's voice matters.
---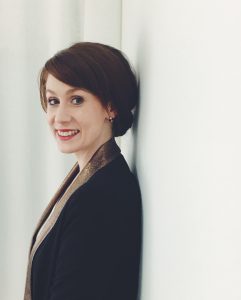 Elizabeth Horn is the Program Director for Women Lead Oklahoma. She moved from Los Angeles, CA to Oklahoma City in 2009. She studied Sociology and Women and Gender Studies at the University of Central Oklahoma, a path that has taken her from working with children in adverse situations to adults at the end of their lives. The common thread through all her professional experiences is that most of the issues people are faced with are symptomatic of bad policy and bad information. Her work with Women Lead Oklahoma is a response to that. She believes in inside-out change and that by providing women with opportunities for education, resources, and connection, they can successfully navigate the pathways to change.
Elizabeth spends her days writing programming that empowers women to become the change-
makers in their communities, and her nights chasing after her toddler daughter, three dogs, and law student husband.